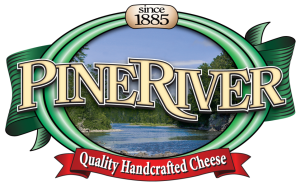 Cheesemongers beware! There are three new cheddars in town and their names are Carmelized Onion, Thai Curry, and Ranch Cheddar! Pine River cheesemakers have built a reputation for their unique brand of high quality aged cheddar originating back to 1885 and we are pleased to carry this brand here at Lorenz Food!
Located near the shores of Lake Huron, on the banks of the Pine River, this manufacturer has invested years of creating the finest cheeses like Mozzarella, Monterrey jack, Havarti, and Colby, not to mention their signature three, five, seven, eight and 9 year old cheddar that can only be found in specialty cheese shops across Ontario. Maybe you are one of those shops!
But it doesn't stop there. New innovations at Pine River Cheese allow the company to express their passion for cheese in new and exciting ways. Its latest initiative includes chocolate and raspberry cheese fudge – perfect for wowing your guests at the dinner table!
Pine River is one of the last farmer-owned dairies in Ontario and is unique in making cheese from real milk. Owned and operated by the dairy farmers of Bruce County, this company produces fine quality cheese using fresh milk from area dairy herds.
Cheese making is an ancient craft that is traced back to the beginning of civilization and was popular with the ancient Greeks and Romans. They recognized its nutritional value and included it in the diets of the Spartan wrestlers when training for the Olympic Games.
As we all know, cheese is a protein food with outstanding nutritional value and an excellent source of calcium. Since protein curbs hunger and keeps you feeling satisfied after meals and snacks, did you know that cheese can help you lose weight?
As a part of a well-balanced nutrition plan, the protein in cheese can slow down the absorption of carbohydrates eaten at snack or meal time and therefore help calibrate your blood-sugar levels and improve mood as well. Calcium in cheese helps keep your teeth strong and can help guard against osteoporosis. Cheese also contains additional nutrients like zinc and biotin. Zinc aids in tissue growth and repair, prevents and treats macular degeneration, protects your skin, and helps keep nails strong. Both zinc and biotin are also important for hair health.
It must be noted though that too much of a good thing can also be counter-productive. Cheese can be high in saturated fat, which can increase your risk of cardiovascular disease, high cholesterol, arthritis, and memory loss. Full-fat cheese is higher in calories. Look for cheeses that are reduced-fat and fat-free to take advantage of the nutritional benefits. Cheese can contain a lot of sodium which can be problematic if you're concerned about blood pressure.
The bottom line is … moderation is key!
Please take a moment to check out our feature of the month – Pine River Carmelized Onion Cheese! We're sure you are going to love it! Click here for more details.
We welcome your feedback. You can connect with us via email or telephone or leave a comment right here on the site.
Wishing you all a very happy holiday season from everyone at Lorenz Food