Welcome 2015! New Year's Resolutions are in full effect! On the top of the list has to be that oath to superior health. This usually inspires the mad rush to buy gym memberships, gym equipment, fitness clothing and yes anything and everything which can turn our flab into slabs! The best transition starts with a healthy diet and the makers of One Source Foods have created their Award Winning, all natural, gluten free Villa's Sauces – available here at Lorenz Food.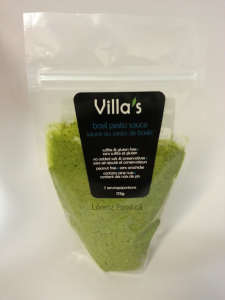 They come in variety of flavours such as:
The famous basil and arugula Pesto,
Sun-dried tomato,
Roasted red pepper and chive, and,
A wonderful lemon herb garlic sauce.
These delicious sauces can be used on your Pasta, as a marinade on Chicken, Beef, Pork, Fish, or as a spread or dip with veggies. The best part of all? These tantalizing, authentic sauces are made using real, local, fresh ingredients!
Pesto has become a North American favourite. But do you know where it originated? We can trace pesto to its roots in Genoa in the Liguria region of Northern Italy. Traditionally its main ingredients consisted of crushed garlic, basil leaves, European pine nuts, x-virgin olive oil and parmesan – Reggiano and fiore Sardo (sheeps cheese).
Pesto, which means 'to pound or crush' involves using a wooden pestle and marble mortar. Traditionally-made pesto is ground with a circular motion in the mortar recipient using the wooden pestle.
The ancient Romans ate a paste called moretorum which can be made by crushing cheese, garlic and herbs together. Basil (ocimum basilicum) the main ingredient originated in India and was first domesticated there. Basil then took a strong hold in the regions of Liguria, Italy and Provence, France. The Ligurians around Genoa masterfully adapted dishes using a combination of Basil, crushed garlic and grated hard cheese. They added pine nuts with olive oil to form the famous pesto. Each family created its own pesto recipe with slight differences to the traditional "pesto alla Genovese." This is why we see so many variations today.
This beloved 'raw' sauce of the world is very versatile and is used in the following ways:
Great with pasta such as penne, fettucine, and gnocchi
Marinate with meats and seafood
As a pizza topping
Use as a dip or enhance your veggies and roast potatoes
Add to your bruschetta
In today's fast paced world where time is of the essence, it's easy to enjoy this Villa pesto sauce. Don't forget to try their others as well. They are sold at fine food stores in your community. The taste of this fragrant green treasure will be a great addition to your new healthy lifestyle!
Villa's Sauces are our feature of the month! Please click here for more information.
We welcome your feedback! You can connect with us via email or telephone or leave a comment right here on the site. Don't forget to 'Like' us on Facebook and join in the conversation too!
Until next time,
The Team at Lorenz Food