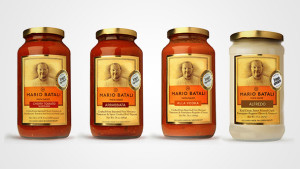 Summer is here and in full effect, well now that we think of it, it's on his last legs!  Once we realize we need a desperate break from the BBQ cuisine of summer we automatically crave a wonderful plate of pasta with the freshest taste of authentic pasta sauce. Mario Batali pasta sauce is an authentic line of all natural pasta sauces, made with fresh ingredients and prepared simply with no preservatives, purees or added sugars.
ORIGIN
Mario Batali was born on September 19th, 1960 in Seattle Washington. Batali began his culinary journey at Le Cordon Bleu in London. He withdrew almost immediately and took apprenticeship with London's legendary chef Marco Pierre White and three years of intense culinary training in the Northern Italian Village of Borgo Capanne which catapulted him with the skills and knowledge to return to his native U.S. and start his growth to unlimited success.
Mario Batali's list of attributes are just the tip of the iceberg when it comes to his love for cooking. He is a celebrated American chef, writer, restaurateur, media personality and philanthropist, supporting many food bank and literacy programs through the Mario Batali Foundation.
QUALITY SAUCES
Mario Batali sauces are made with real imported Italian San Marzano tomatoes from the Sarnese-Nocerino area of Italy, extra virgin olive oil, and fresh herbs and spices. These all-natural sauces are made in small batch production to ensure consistent product quality and great taste in every jar. No paste, puree, or sugar is ever added. (MarioBatali.com)
TRADITIONAL FLAVOURS
Mario Batali Pasta Sauces come in a variety of flavours:
Tomato Basil
Marinara
Alla Vodka
Arrabbiata
BENEFITS
Mario Batali sauces are all natural, made with farm fresh ingredients and produced in a green facility. They are a great quality sauce to include in your product line-up.
Use all natural ingredients
Farm fresh ingredients
Produced in a green facility
You can find great products like this and others at Lorenz Food Distribution in Mississauga. Distributing food products to independent stores and grocers across the GTA.
At Lorenz Food we take pride in selecting the latest and most innovative specialty products available. There is always something new and delicious to eat! As always, we welcome your feedback. You can reach us by email or telephone, check us out on Facebook, or leave a comment right here on the site.
Until next time,
The Team at Lorenz Food