Summer time has come quickly and with that comes summer fun.  Having family and friends drop in for a summer swim and creating amazing memories no doubt requires food and appetizers with a great bottle of wine, spritzer or cold beer.  Instead of the usual BBQ dishes, why not try something unique?  One dish that will have your guests coming back for more is the authentic rice ball also known as arancini!
Arancini are stuffed rice balls.  The traditional rice ball is made with risotto, meat ragu sauce, peas and cheese, rolled in breadcrumbs and then deep fried until crispy and golden.  Today you can find arancini filled with tomato sauce and cheese, porcini, mushrooms and cheese or ricotta and spinach. You can get creative and stuff them with whatever comes to mind or what you find in your fridge.  The possibilities could be endless and are always delicious.
ORIGIN
Invented in the tenth century when Sicily was the island ruled by Kulbid, Arab, arancini were stuffed with meat and coated with a light, crispy batter.  Rice balls are similar to foods based on known recipes from the Middle East during the middle ages. The people of Sicily used to use arancini as a take away food, because the breadcrumb shell it kept its shape when traveling, hunting or just a stroll through the fields by farmers.
Arancini is the Italian name translated as little orange. This came about because of the shape and colour of arancini resembling an orange.  Arancini is the traditional food served for the feast of Santa Lucia on December 13th when bread and pasta should not be eaten.
Today with the increasing popularity of this snack food in modern Italian food culture, arancini can be found all year round. The dish is often made using rice from left-over risotto.  Rice balls are the golden jewel in the crown of Sicilian cuisine.  With its simplicity arancini rice is flavoured and coloured with saffron which is very beautiful and a very popular spice all over the world.
BENEFITS
We often think rice is the enemy of the diets we are on, but it is a healthy option that will often satisfy your craving for other not so healthy carbs.
Arancini rice balls are:
A good source of carbohydrates, one cup of Arborio or risotto rice contains about 100 to 110 grams of carbohydrates. The perfect amount to help you build muscles and stay healthy.
Packed with vitamins and minerals. Its vitamin C content helps protect your teeth and bones.
Easy to digest and restores bowel function too.
Arborio rice stimulates the production of enzymes and hormones which protects tissue and helps the body function normally.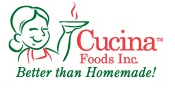 We at Lorenz Food Distributors carry the original authentic Italian rice balls made from Cucina Foods.  All recipes are created by master chef Umberto Marinelli from Como, Italy.
Arancini Varieties Include:
Siciliana, peas, carrots and mozzarella cheese in a meat sauce
Margherita, tomato sauce and mozzarella cheese
Ricotta, spinach and parmesan cheese
Porcini, mushrooms, and mozzarella cheese in a Marsala cream sauce
Arancini are available in retail packs and bulk cases found in almost all grocery stores and surrounding bakeries in the GTA.
At Lorenz Food we take pride in selecting the latest and most innovative specialty products available.  There is always something new and delicious to eat!  As always, we welcome your feedback. You can reach us by email or telephone, check us out on Facebook, or leave a comment right here on the site.
Until next time,
The Team at Lorenz Food