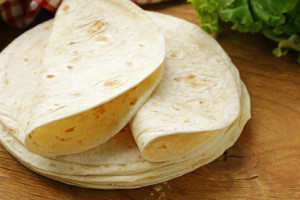 Now that the New Year is in full swing, are you wondering how to keep your meals healthy and delicious?  I can share with you the latest buzz on tortillas, which are a very versatile addition to any meal!  Tortilla, the name given by the Spaniards to the unleavened flat bread that they found in Mexico among the Aztec in the sixteenth century, comes from the Spanish word "torta" which means round cake.
HISTORY:
From corn that is ground we get masa which forms the dough for tortillas.  These legendary tortillas date back as far as 10,000 years B.C.  This item was the principal food of the Aztecs who were the dominant people of then Meso-America.  Consequently this was the main diet of these people. The corn supplied enough starch which was the main source of energy and protein and not a lot of fat which made this a most desirable food at that time.
BENEFITS:
A great source of DIETARY FIBRE; important in digestion which keeps you regulated
A great source of IRON; benefits your circulation
Helps produce HEMOGLOBIN; the protein your blood needs for oxygen transport
NIACIN / VITAMIN B-3 to support your metabolism
Can help fight diseases including diabetes and heart disease
TODAY:
Incredibly from the days of the Aztecs when the tortilla was originated all the way to today, tortillas have gone from ethnic food to mainstream delight.  Tortilla sales have now become second only to sliced bread.  It is now the number two packaged bread product sold, surpassing both bagels and muffins.
As you can see this ancient bread has made its way to menu supremacy.  All ethnicities alike have made this flat bread part of their weekly intake.
TRY IT:
We welcome Sonora Wraps into our line-up at Lorenz Food to help complete our product variety.  They have become synonymous with great taste, authentic flavours and quality ingredients.  These Tortillas have zero trans-fat and have a reputation for not ripping apart.  Meat and bread go hand in hand, and why not wrap it up in a tortilla so you only need one hand to eat it with?  Try wrapping fresh deli meats and cheese, sliced BBQ chicken or even just a veggie and tomato bonanza.
At Lorenz Food we take pride in selecting the latest and most innovative specialty products available.  There is always something new and delicious to eat!  As always, we welcome your feedback. You can reach us by email or telephone or leave a comment right here on the site.
Until next time,
The Team at Lorenz Food